The best-selling ice machine in AGICO - Block Ice Machine-KB Series:
AGICO KB Series Block Ice Machines

are new type of machines with high-effective and stable production, widely applied to Africa, Middle East and Oceania. This machinery unit adopts an integrated design, easy to install, you can use it directly after connecting the power and water pipes. All dimensions of equipment are designed according to International Standard Container size, very convenient for transportation and operation.
Block ice size: 5kg/piece, 10kg/piece, 15kg/piece, 20kg/piece, 25kg/piece, also we can design the block ice according to customers' needs.
Application field: ice factory in harbor and dock, aquatic product preservation, long-distance transportation, cooling, ice sculpture and so on.
Product Feature:

Freezing time:

 4~8hours;


Capacity:

 1tons to 30 tons per day;


Material: 

adopt stainless steel with special processed;
The material for water tank is

SUS304 stainless steel

, not easy to rust and wear-resisting;
Low maintenance and high capacity;
Reasonable and separated design for the structure, save space, easy to install;


Easy installation and operation, module structure, easy to move and install, meanwhile, easy to harvest ice;
Technique Parameter (

can be customed to your specific need

):
Model

Capacity


(Ton/24Hrs)

Compressor

Power (KW)

Supply power

Dimension (mm)
(Length*Width* Height) 

Voltage/Hz/Phase

KB10

1

3.8

380/230

50/60

3

3050

1330

810

KB20

2

7.5

380/230

50/60

3

1940

1410

965

KB30

3

11.3

380/230

50/60

3

2630

1410

1065

KB40

4

15.0

380/230

50/60

3

3600

1450

1100

KB50

5

18.8

380/230

50/60

3

4250

1470

1100

KB60

6

22.5

380/230

50/60

3

4800

1470

1100

KB80

8

30.0

380/230

50/60

3

5550

1680

1200

KB100

10

37.5

380/230

50/60

3

6080

1700

1300
Operation Condition:
Refrigerant: R22 or R404a;
Cooling way: Water cooling system or Air cooling system;
Standard working conditions:
input water temp

: 21 ℃,

evaporating temp:

-10℃,

condensation temp:

40 ℃.
Supply Power:

380V, 50Hz/60Hz, 3P or 220V~ 240V, 60Hz, 3P
* Model and specifications subject to change without notice.
Apart from the KB Series Block Ice Machines in Brine Refrigeration we strongly recommended for you, we still offer Containerized Block Ice Machine and Directly Evaporated Block Ice Machine, you are welcomed to contact us for more details if you are interested in them.
Here you can also take a close look at the workshop of AGICO for Ice Block Machine.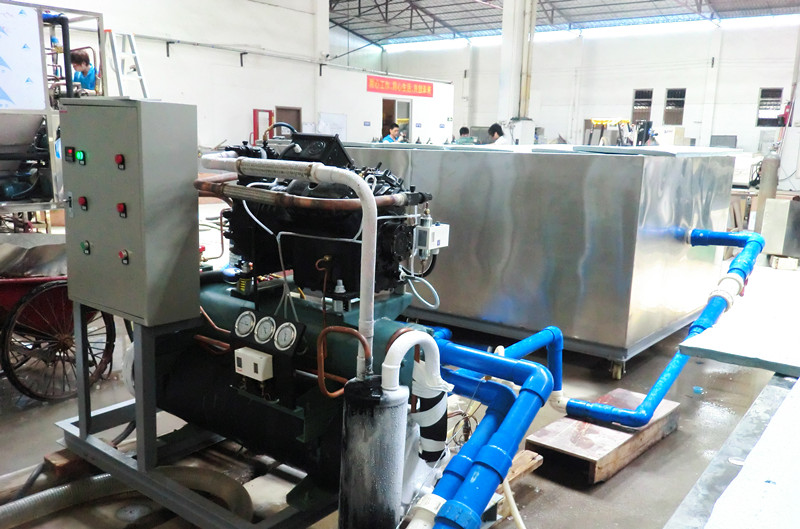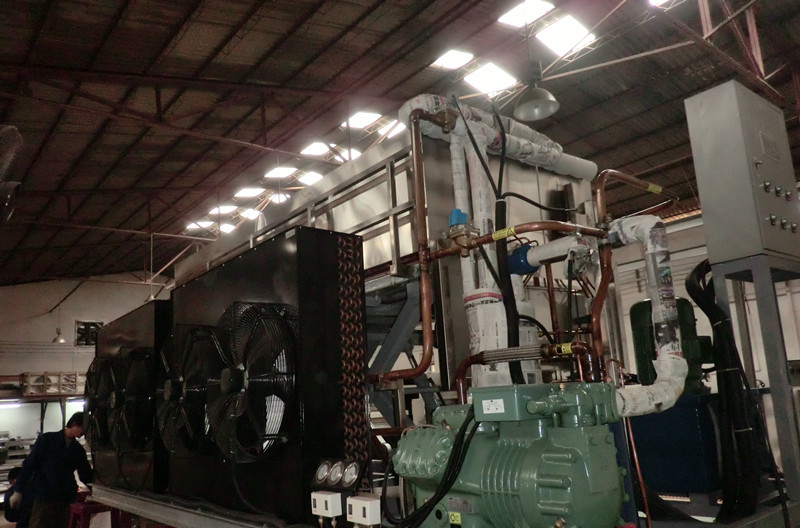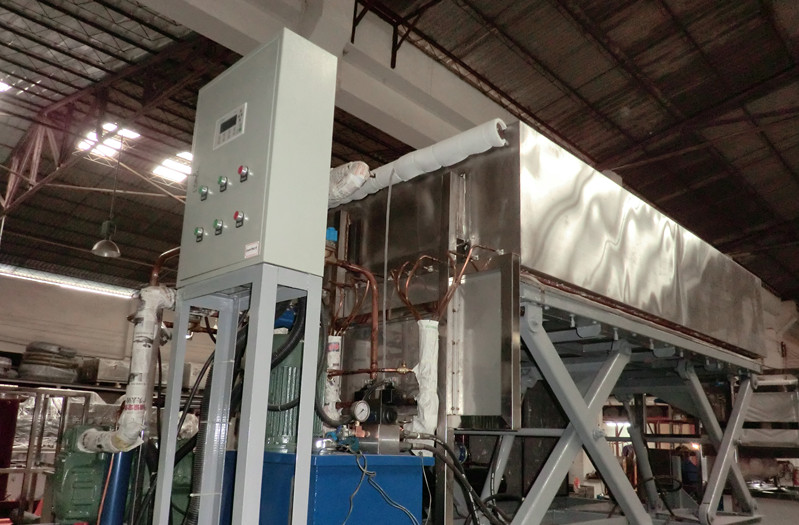 All of AGICO's product is manufactured under strict procedure operation;
The workshop have set up strict management system for every staff to follow;
The staff in the workshop is well-trained in order to let our products maintains the first-class  technological level in the world.
"Details makes perfect". AGICO never neglect every small detail of its product.
Brine water tank – made of high-quality stainless steel to enable long service life.  
Ice Harvesting System-easy for storage and delivery.
AGICO warmly welcome you to visit our workshop to better know about our product.